EasyCut Cling Film Refill
The perfect partner to the Bacofoil® Refillable EasyCut Cling Film Dispenser, the Bacofoil® EasyCut Cling Film Refill contains 60m of film and has strong cling properties, making it suitable for keeping food fresh and sealing in flavour.
Made from premium cling film, it prevents the transfer of odours in the fridge and is suitable for all kinds of food wrapping. Featuring an easy start roll back to enable a seemless start.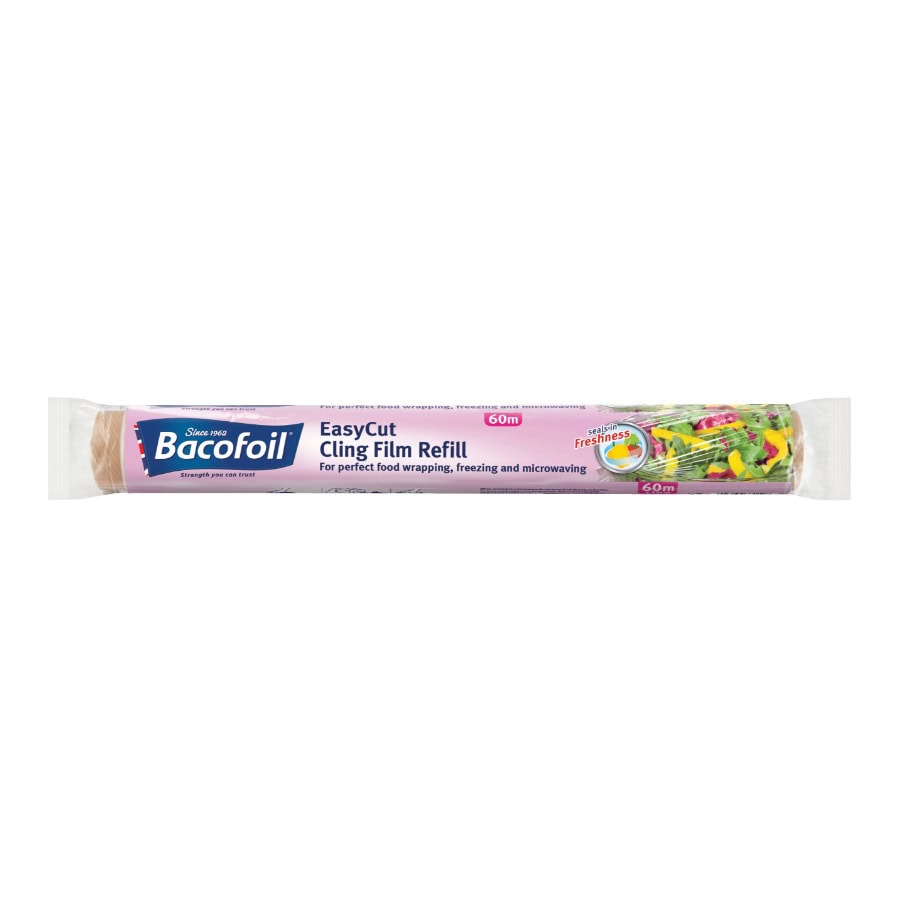 Benefits
For use with the Bacofoil® EasyCut Cling Film Dispenser
Keeps food fresher for longer
Strong grip and seal
Suitable for wrapping and covering all foods
Extra wide to cover plates of food
Product Information
Available Pack Sizes
Width x Roll Length
35cm x 60m
Product Materials
PVC Plastic
Preparation and Usage
Suitable for wrapping and covering all foods. When cooking in a microwave do not wrap food directly in the film. For best results place over a microwave-safe dish or container folding back a corner to allow steam to escape – do not puncture.
BPA Free
Safety Warnings
To avoid danger of suffocation keep away from children.
Not suitable for use in conventional or combination ovens or microwave browning units.
Recycling
To dispose of this product and it's packaging responsibly please do the following: Where applicable – First of all check your local recycling options for paper, cardboard, foil, metal and plastic packaging.
Film – PVC Plastic – Not Yet Recycled
The film is not yet recyclable. Dispose of your film in your general waste.
Roll Core – Cardboard – Widely Recycled
Place your roll core in the correct kerbside recycling bin or visit a local recycling point.
Shrink Packaging – PE Plastic – Check at local kerbside
Place your shrink packaging in the correct PE Plastic recycling bin or check at your local recycling point.